Comics X Games 2019
Toronto Reference Library, 789 Yonge Street, 2nd Floor Meet-up Space
Saturday May 11th, 9am-5pm & Sunday May 12th, 10am-5pm
Presented by Hand Eye Society and TCAF
Hand Eye Society and TCAF have teamed to bring you COMICS X GAMES 2019, a celebration of the intersection of comics, indie video games, and narrative! Taking place at Toronto Reference Library's second-floor "Meet-up" space, CXG 2019 will feature more than 30 indie games from across Canada and around the world!
If you have any questions, please contact cxg@handeyesociety.com (all e-mail will be forwarded to the CxG/HES Logistics team: Amanda Wong, Ken Cho, Alanna Predko and Sagan Yee).
Index:
The Programming
The Games
Special Presentation: FLOOR KIDS with Kid Koala & JonJon
The Programming
CXG will have at least two special programming presentations at TCAF this year! Watch this space for details.
The Games
Here are the games (and creators!) you'll find at CXG2019
Rock-Paper-SWAP! by JAWS
Twitter/Twitter/Twitter/Twitter
A 2-4 player arena PVP game where you must predict your enemies' actions, and transform into Rock, Paper, or Scissors to counter them. The first player to 5 points wins.
Get in the Car, Loser! by Love Conquers All Games
A lesbian road trip RPG by the writer behind Ladykiller in a Bind and the artist behind Witch Trade about fighting for love and justice in the face of indifference, inspired by choice-driven visual novels, and a battle system influenced by classic and modern JRPGs. WILL YOU STAND AND FIGHT IN THE FACE OF EVIL?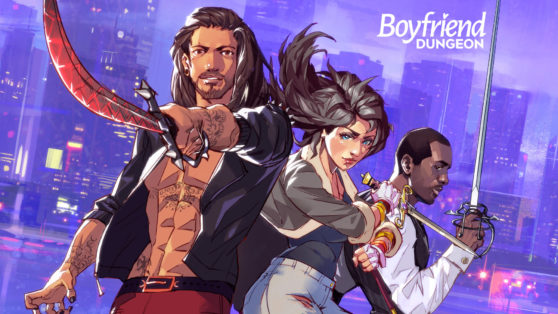 Boyfriend Dungeon by Kitfox Games
Romance your swords! Capture the hearts of weapons to level them up in this dating simulator, dungeon crawling mash up. The stronger your relationship, the better the fight in the dungeon!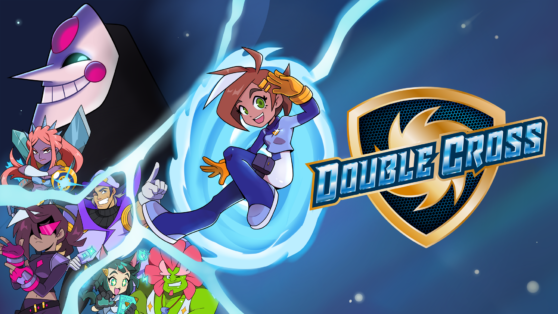 Double Cross by 13AM Games
Double Cross is an exciting action adventure game that has players take on the role of Zahra, an agent of R.I.F.T. whose job it is to maintain peace and order between all dimensions. A recent attack on R.I.F.T. headquarters thrusts players into a thrilling new case where they must use their R.I.F.T. developed gear to sling, swing, fight and investigate across distinct dimensions. During their travels players will gather clues to bring themselves one step closer to finding the identity of R.I.F.T.'s attacker and save every variation of the universe.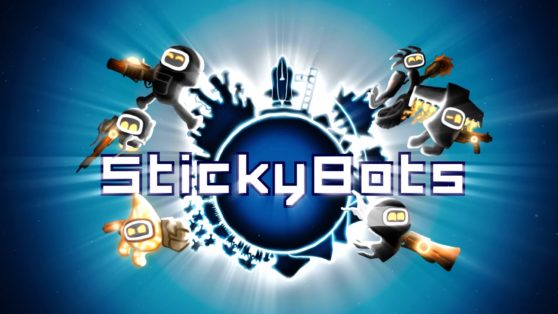 StickyBots by Potion Games
Plunge into a first of its kind online multiplayer action platformer. StickyBots combines shooting and platforming for a unique, adrenaline pumped, action packed experience. Unconstrain your play style by swapping your character class mid-fight. Climb up walls and on the ceiling for a special perspective on the battle. Use momentum by bunny hopping, rocket jumping, and falling with style across the map. StickyBots is complete with both single player and online multiplayer modes.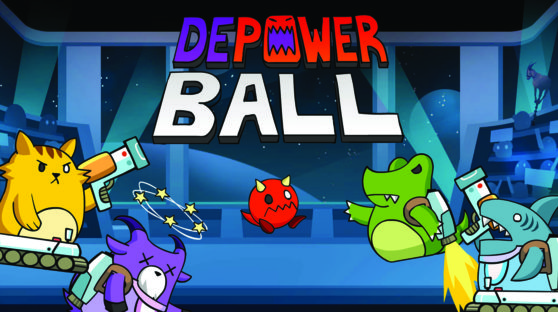 Depower Ball by Mega Power Games
Twitter/Instagram/Website/Itchio
How much will you lose before you win? Your objective is to win three rounds. Every round, you will deliver critters to your Queen to score points using all four of your given abilities. Whoever gets the most points will win the round. BUT…win a round, and the other players will vote off one of your abilities, forcing you to change your strategy on the fly!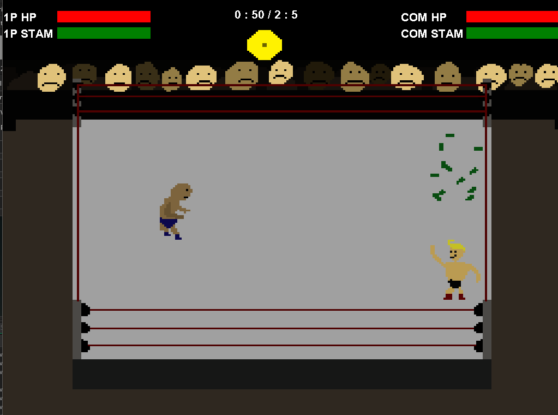 Road to the Champ by PIZZA PRANKS
Road to the Champ is a professional wrestling RPG mixing timing based attacks and the awareness that wrestling is obviously not real. Work together with your partners in the ring to put on the best show possible! Outside the ring improve your body and personality on the road to becoming a top performer!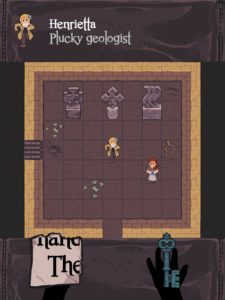 Blabyrinth by Sleeping Beast Games
Blabyrinth is a cooperative escape room that changes every time you play! Explore a mysterious labyrinth with your friends. Find cryptic clues and secret passages, solve puzzles, and escape with the treasure! 2–4 players on iOS or Android.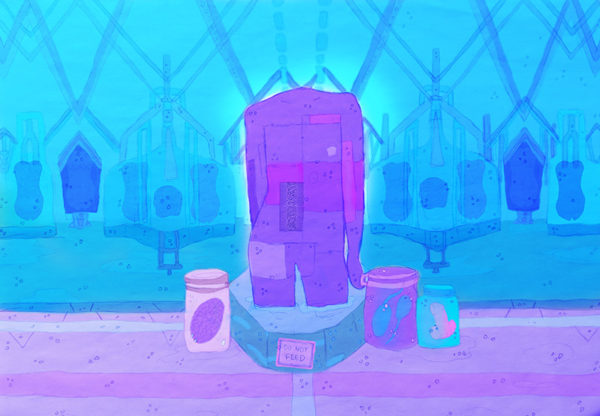 Neutrois by Dikla Revah Sinai
Neutrois is a nonlinear interactive novel, created in Twine, speculating on life in a postgender world. The narrative is based on a science fiction future scenario. The game includes original artwork, illustrations, which are using to help envision the imaginary world. The game invites its participants to think critically about a future social construction where gender and biological sex designations are a matter of choice.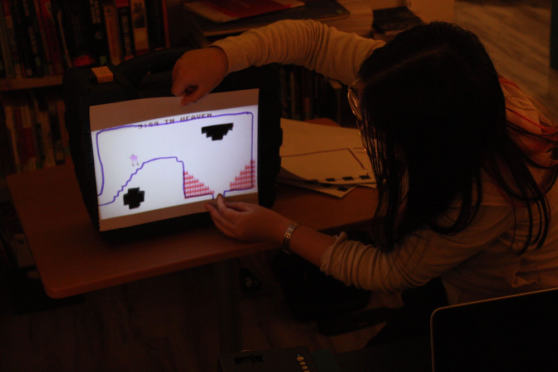 Seven Minutes in Heaven by Drotleyes
You and your love have just 7 minutes in heaven together – but heaven is full of invisible walls, and just one of you has the maps. If you can work through your arguments and fumble awkwardly together through the messy halls of heaven, you just might enjoy the pleasures of a few last seconds in each other's company. Love takes a lot of thought, conversation, and platforming—no one said it would be easy.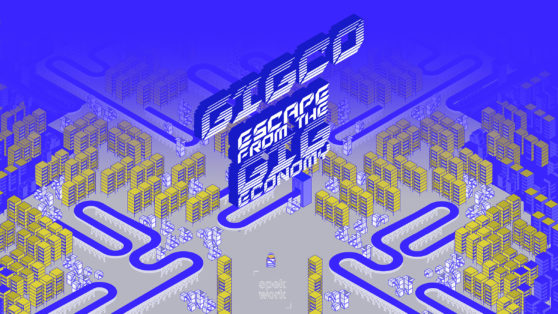 Gigco: Escape the Gig Economy by Spekwork
In the Gig Economy, you've got to get the job done– or risk automation. In a world where Amazon, Uber, and Facebook are looming mega-opolies, you need to work, 'like', and subscribe to stay alive. Gigco: Escape the Gig Economy is a pro-worker mobile game exploring the changing conditions of work and play.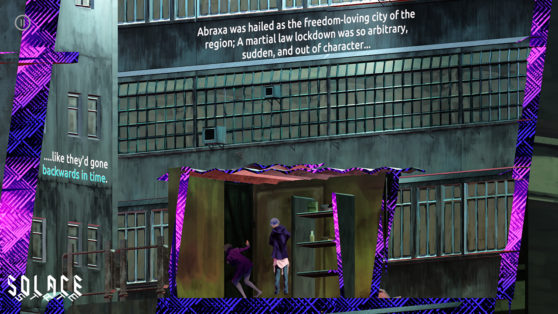 Solace State by Vivid Foundry
Solace State is a choice-driven sci-fi drama about Chloe, a young hacker in a city fractured by disparity and conspiracy, where her speaking truth to power shapes friendships, coalitions, and afflicted groups fighting for their livelihoods. Solace State innovates the visual novel genre by using beautifully painted 3D urbanscapes, diegetic text, and intersecting camera-work as the canvas of its storytelling. In this gritty drama about fighting injustice across entrenched social divisions, there are numerous choices to make about the manipulation of data and behaviour. The emotional journey also balances with uplifting personal tales of friendship, family, community, and past and future loves.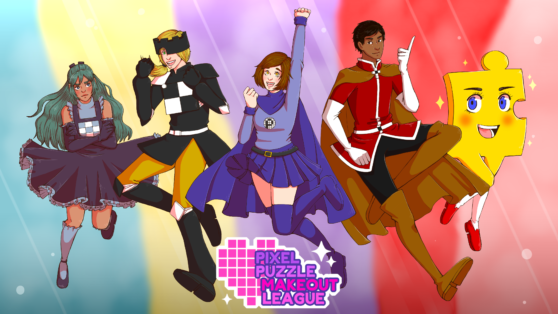 Pixel Puzzle Makeout League by Rude Ghost
Pixel Puzzle Makeout League is a hybrid visual novel and puzzle game themed around romance, comedy and superheroes. As "Pixel Girl", you'll use the power of "pixel puzzles"—where you fill in numbered grids to reveal hidden pictures (also known as picross or nonograms)—to solve life's problems, romance your fellow puzzle-themed superheroes, and maybe even save the day! Will you find true love in the Puzzle League, or will the mysterious Villain third wheel you with his doomsday plot? It's an adventure for players who love puzzles, and want to *love* puzzles…seriously, you can date a giant puzzle piece.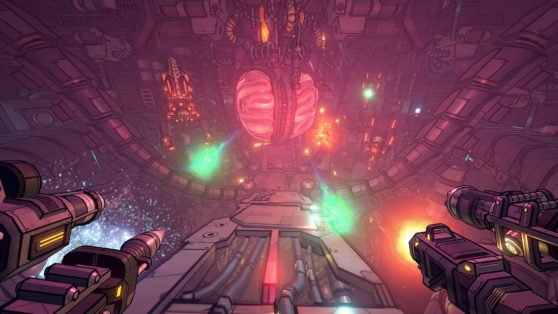 Gunhead by Alientrap
Gunhead is a fast paced strategic FPS where you take the role of a pirate mech with a gun for a head, looting derelict spaceships filled with monstrous drones made out of bone and steel.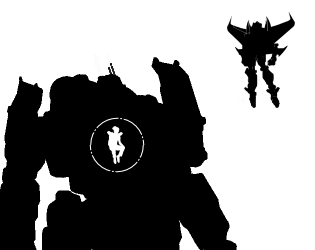 All My Exes are in Mechsuits by Anna Anthropy
A three-player live action role-playing game (LARP) about a pilot, their mech, and a returning figure from their past. Can the mech's on-board AI keep the pilot focused on their mission while they try to prove themself to their ex? Created for the Emotional Mech Jam.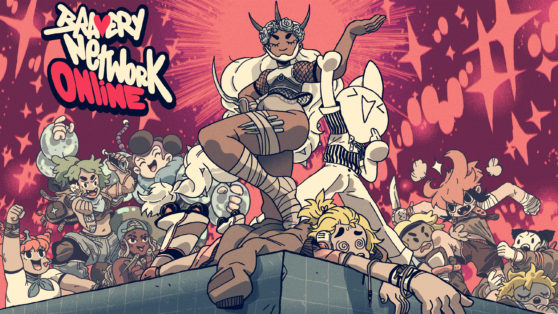 Bravery Network Online by GLOAM
Bravery Network Online is a turn-based battle game that has you in the future world of Toronto, competing in the ultimate sport: Bravery. Technology has made resource scarcity a thing of the past, and the citizens lovingly battle each other to stay plugged in.

Notopoly by Maurice Grela & Lisa Smedman
Notopoly is a reimagining of Monopoly that returns the game to its educational roots while presenting a contemporary solution to the hyper accumulation of property.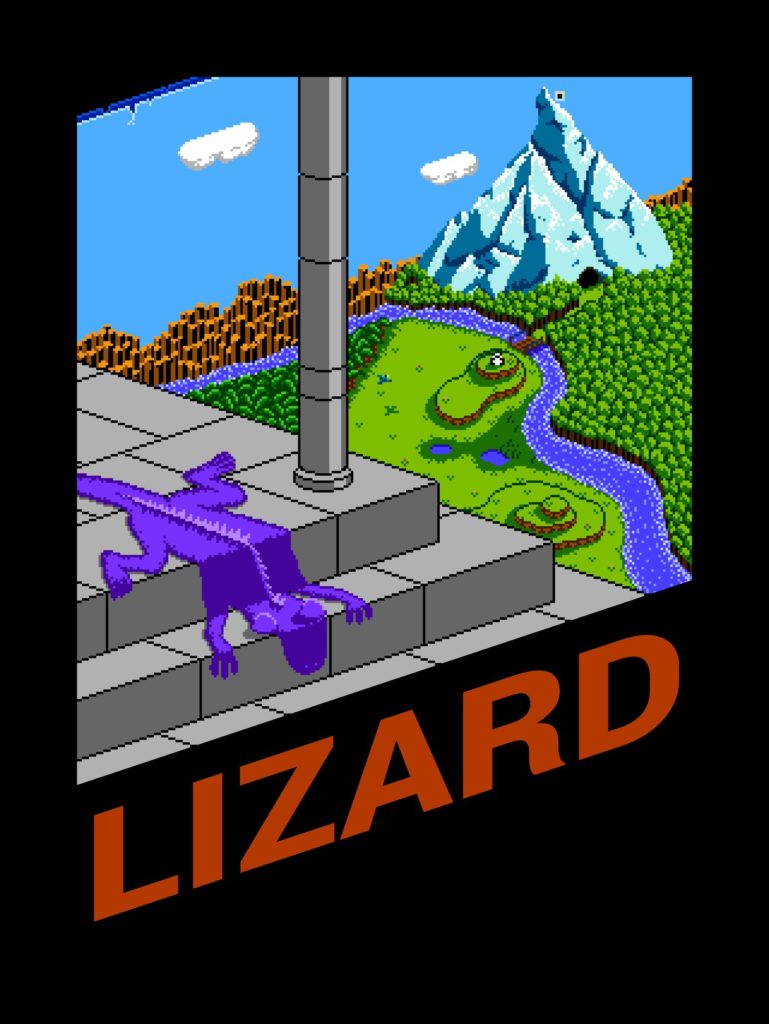 Lizard by Brad Smith
Put on a Lizard and go for an adventure! An exploration platform game for the NES.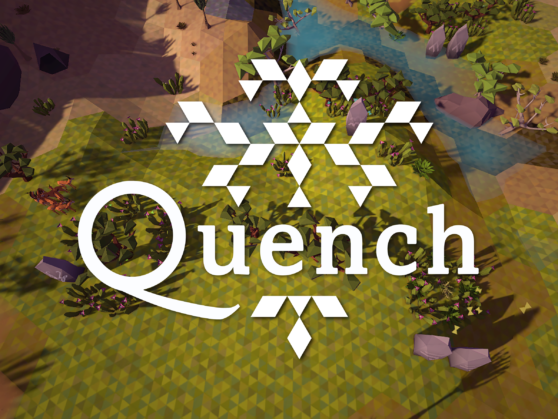 Quench by Axon Interactive
Quench is a story-driven puzzle game set in a colourful, lo-fi world. You play as Shepherd, an avatar of nature, and you have the power to control the weather to guide herds of animals on a perilous journey. You must protect your flock, tend the land, and unravel the mystery of the strange smokebeasts that have invaded the world.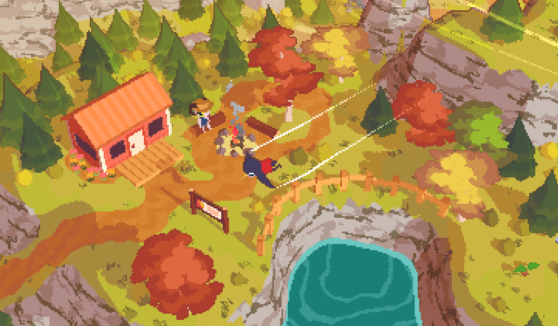 A Short Hike by Adam Robinson-Yu
Take a break and go for A Short Hike. Follow the hiking signs to reach the top of Hawk Peak Trail, or find your own route to the top of the mountain. Use your climbing and flying abilities to scout the island and make friends in this peaceful exploration game.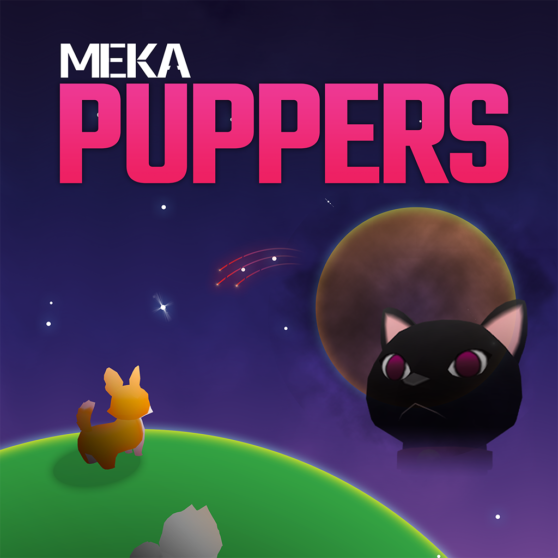 Meka Puppers by Galacanine Entertainment Software Inc.
Part tactics-style RPG, part mech builder, with a hint of pet simulation! Help the Meka Puppers save the Shiberius Prime star system by building custom Meks, engaging in turn-based combat, and befriending new doggo pilots along the way. Meka Puppers will be coming to PC and MacOS in 2019.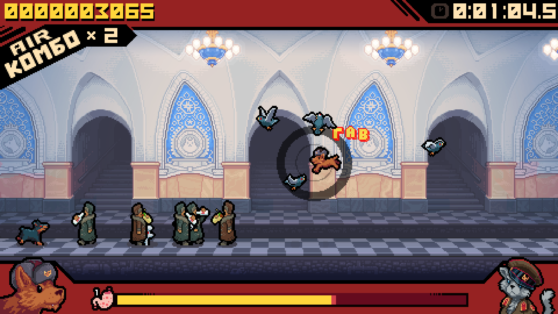 Russian Subway Dogs by Spooky Squid Games Inc.
A fast-paced systemic arcade game inspired by the real-life stray dogs of the Moscow metro. Can you steal enough food to survive?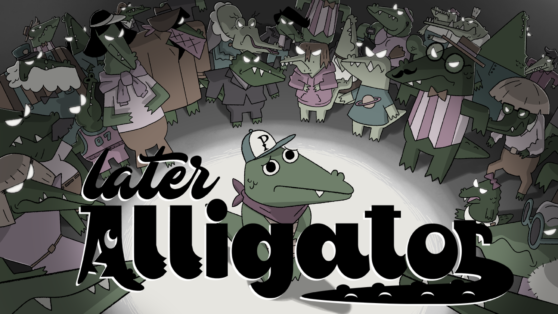 Later Alligator by Pillow Fight Games/SmallBu Animation Studio
Later Alligator is an interactive cartoon adventure about Pat, a hapless little reptile with a big problem: his family is trying to kill him! Explore Alligator New York City and meet over 100 characters, all animated lushly by Lindsay and Alex Small-Butera, the Emmy Award-winning team behind Cartoon Network hits and Youtube series Baman Piderman.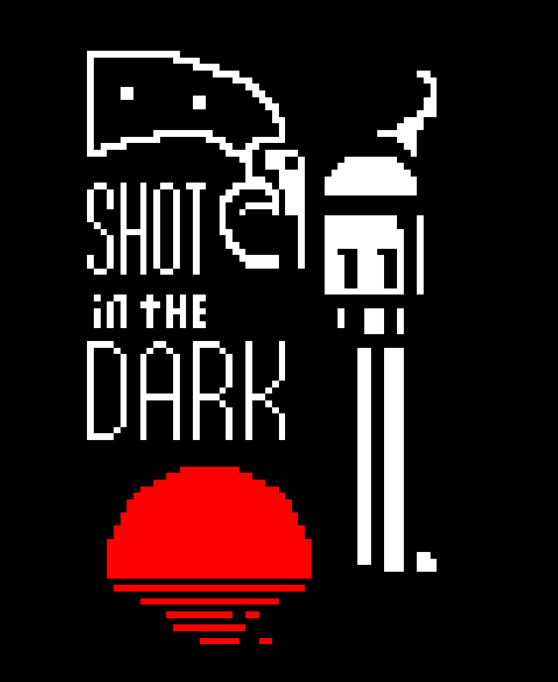 Shot in the Dark by Possum House Games
Twitter Twitter /Website Website
Shot in the Dark adds a sinister twist to the classic 2D platformer formula. All kinds of monsters and traps are hidden in the shadows of a monochromatic world. Players must have a sharp eye and quick reflexes in order to survive. Armed with nothing but a six-shooter, it is up to the lone gunslinger to overcome the demonic threat.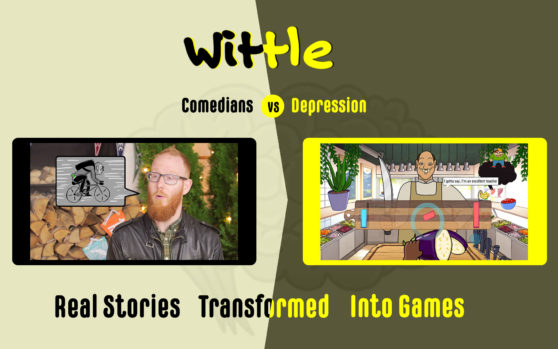 Wittle by Embreate
Twitter/Website/Facebook/Instagram
The story depicts recent college graduate Raf, unable to find a job and struggling with his living expenses. He lies about his restaurant experience and gets a job at a vegan deli despite not being vegan or even vegetarian. You will help Raf make fresh-cuts of different vegetables while dealing with your boss and other challenges in the midst of trying to work. Wittle draws its content from the lived experiences described by comedians about dealing with mental health-related issues. Players will engage with depression-related challenges as they move through the different scenarios, confronting traps and escaping via skills based in cognitive behavioural therapy.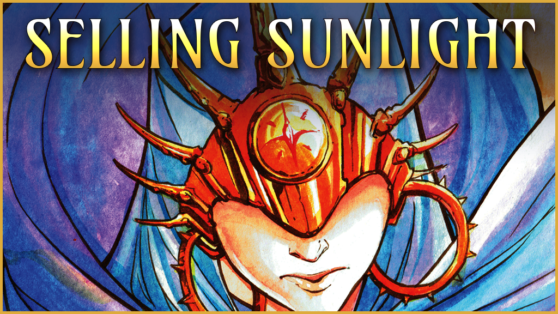 Selling Sunlight by CoseBelle
In narrative RPG Selling Sunlight, you are a wandering merchant whose face got taken by the Sun. Explore a fantasy world stuck in an eternal sunset. Befriend other travelers, pet giant bees, smuggle light bulbs, be afraid of mirrors, and trade goods and information with other merchants. Acquire riches. Collect weird wonders. Barter with the Sun. Get your face back.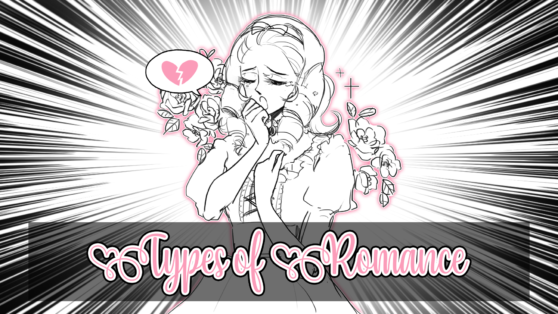 Types of Romance by Sleepy Pixel Studios
A 70's shoujo-manga inspired typing-game dating sim. Woo the lady of your dreams but beware your choice of words and clarity of voice lest you reduce her to tears!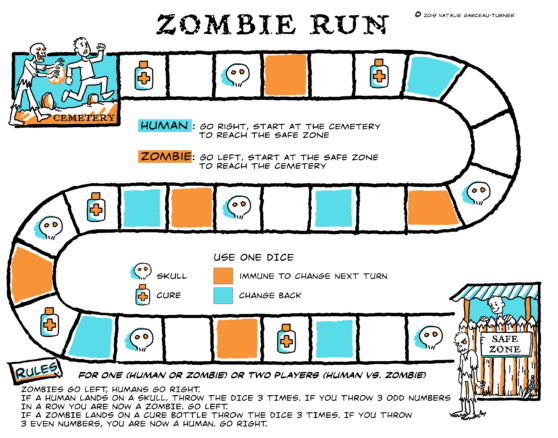 Zombie Run by Natalie Garceau
Zombie Run is a simple board game that can get complicated. Your goal is to win, and to do it in the same shape you started with. Bites, antidotes, chases will get in your way. Apocalyptic dystopian fun for all.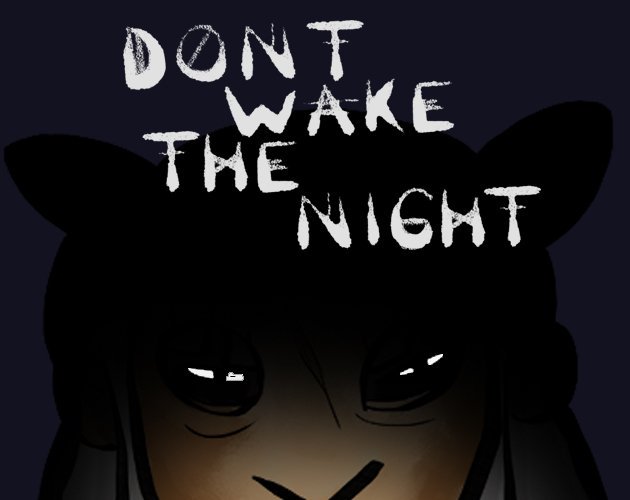 Don't Wake The Night by Brujería @ Werk
DON'T WAKE THE NIGHT is a 2D point-and-click mystery game, where you, the ghost a community of witches has summoned, must act as their impartial judge. But for what purpose? Unravel conversations and piece together gossip and hints to understand the source of conflict between strangers–and find out who is truly guilty.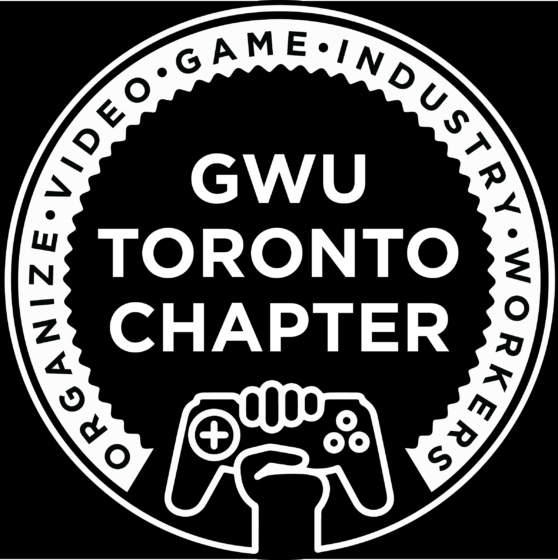 Game Workers Unite Toronto
Game Workers Unite Toronto is the local chapter of Game Workers Unite, a worker-led organization advocating for unionization in the games industry. We seek to bring hope to and empower those suffering in this industry.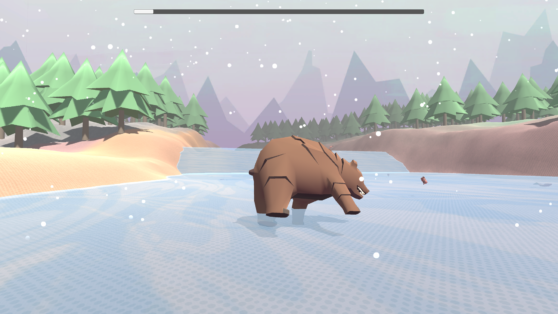 Bear-ly There by Pale Moon Games
Bear-ly There is a quick and leisurely adventure game where you roll, hop, and flop your way around with a 3D ragdoll physics bear in the forest on your way to fill up on salmon before a long winter sleep. Family friendly, easy on the eyes, with simple stylized 3d art and a relaxing atmosphere of animals being natural in nature.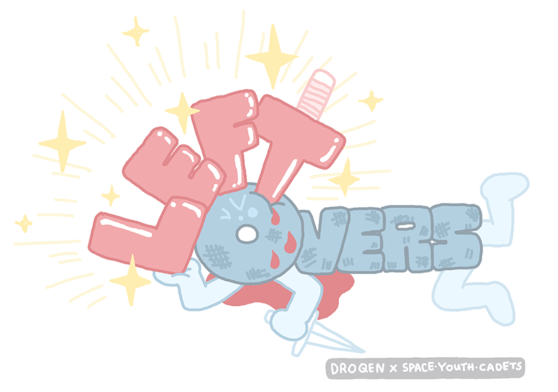 LEFTOVERS by DROQEN X SPACE YOUTH CADETS
Twitter/Website — Twitter/Website
Leftover Adventurers!! Band together in this card game to take on challenges, rise amongst your peers, leave scars, and collect the latest good-lookin gear so you can flaunt your cool while doing it! Prove your worth and no one will leave you behind again.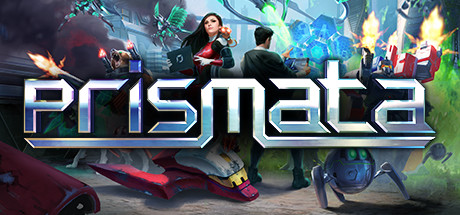 Prismata by Lunarch Studios
A perfect-information strategy game inspired by RTS, deckbuilders, and board games. Choose from three distinct technology classes and outwit your foes by snowballing your starting resources into a powerful cybernetic army.
—
Special Presentation: Floor Kids Jam, with JonJon and Kid Koala
The amazing creative team of Jonathan Ng, aka JonJon, and Scratch DJ/Composer Kid Koala have created the amazing indie game FLOOR KIDS, and now they're bring the Floor Kids Jam: Art X Games X Music event to TCAF! A special event the of the Comics X Games crossover, Floor Kids Jam will feature multiple consoles to try the game out, behind the scenes looks at the creation of FLoro Kids, and even mini scratch DJ and Animation workshops with Kid Koala and JonJon in attendance!
For more information on Floor Kids Jam, see the special event page.
Our thanks to Arts & Crafts and MERJ for their support of Kid Koala and JonJon at Comics X Games!
Jonathan Ng, a.k.a. JonJon:  Full Bio / instagram: @JonJonAnimation / twitter: @JonJonAnimation
Kid Koala:  Full Bio / instagram: @realkidkoala / twitter: @kidkoala / FB: facebook.com/kidkoala / website:  kidkoala.com
Floor Kids: instagram @floorkidsuniverse / twitter: @FloorKidsCrew  / FB: facebook.com/FloorKids